Dina Nath Kaul Nadim
Unsung Hero's
Srinagar, Jammu & Kashmir
---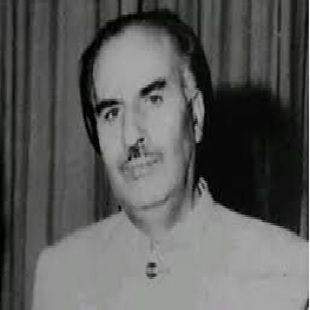 Dina Nath Kaul "Nadim " was born on 18 March 1916 in Srinagar, Kashmir. His father was Shankar Kaul, who passed away when Nadim was just 8 years old. He was brought up by his mother in poverty. His mother belonged to a village called Murran and was a culturally rooted person. She was well versed in the oral traditions of Lal Vaaks of Shiva Yogini Lalleshwari, part of the culture of that region. That influenced Nadim in shaping his mind. Mother's singing of Vaaks inculcated in him a penchant for poetry.
Nadim acquired his B.A. degree in 1943 and B.Ed. in 1947. After Completing his education, he started teaching in Hindu High School, Srinagar and later rose to the chair of a principal of Lal Ded memorial School in Srinagar. He was also one of the founders of the Gandhi memorial college, the first private degree college in Jammu and Kashmir .
Due to his immense contribution in cultural activities and literary aspects, he was appointed as Assistant Director of Social Education. He was also a member of Sahitya Academy.
Nadim was a revolutionary poet who wrote on socially relevant themes that had political overtones. His approach was progressive and appealed to all sections of the people. His main focus was to instil in people the sense of nationalism to throw away the foreign yoke and capitalism and work for the humanist society. Between 1938 and 1946, he wrote mainly in Urdu and some poems in Hindi under the influence of Kashmiri poets Brij Narayan Chakbast and Josh Malihabadi. Later he expressed himself in Kashmiri – his mother tongue. His poems Aravalli, prarakhna and Grav, were on themes of patriotism, revolution, and freedom spread Nadim's spell and his political activism created awareness.
Nadim played a crucial and important role during 1947 when people all over India were fighting the British imperialism and local princely order. He had a pan Indian outlook and an eye for international events. He published the crux of the events and their effect on the freedom of the people in Kashmir and motivated them to work and struggle to bring democratic order. He inspired a whole generation of freedom lovers and his songs, operas and poems set stages and streets on fire.
Nadim is a signature in Kashmiri vernacular poetry and is equally loved and respected by people of all religions. When Pakistani army regulars disguised as raiders attacked Jammu and Kashmir, Nadim used his pen and persona to consolidate the people of Kashmir and put a united front against the enemy. Writers and artists organized themselves hastily under the Cultural Front. Nadim became the vanguard of this group and started composing and reciting poems of protest and revolution. He was a leading light of the Cultural Front comprised prominent literary figures who were at the forefront of the freedom struggle in Kashmir.
His passionate patriotic poems. Tsi Mir –I Karvan Ban (you become the leader of the caravan), Naray Inqalab (the call for Revolution), (I have to turn Hindus and Muslims into human beings again), Servani sund khab (the dream Shervani) and Ptitshun Chum (I must Ask) were an awakening call for Kashmiri youth.
Nadim inspired the whole generation of freedom fighters and contributed to composing the message of secularism, communal harmony, and amity.
Moreover, the establishment of Radio Kashmir on 31 July 1948, encouraged these artists by providing them a platform which gradually increased its reach and appeal.
Radio Kashmir in due course of time became an important medium of communication and connectivity with the people at large thus making it a powerful tool of resistance against the political crisis of those times. It also turned out to be an instrument to thwart the evil designs of the enemies. New slogans were coined and reputed poets and literary figures were invited to spread the message of nationalism, and mobilization of the people against the invaders.
His political activism continued even after independence. His aspirations for World Peace landed him as the General Secretary of the State Peace Council in 1950. He was one of the active participants in the Indian peace conferences of 1951 and 1952. Me Cham Ash Paghic (My Hope for Tomorrow) was his famous composition.
I dream of tomorrow
when the world will be beautiful!
There is a collection of about 150 poems written by Nadim which includes English, Hindi, Urdu and Kashmiri. For the collection of his poem Shihil kul he was honoured by the Sahitya Academy.

Dina Nath Kaul "Nadim" passed away in 1988 when terrorism was raising its head in Kashmir and reached the worst level in 1990.
Article Credits : Amrit Mahautsav
---